To successfully connect the Freight Desk Online (FDO) to Central Transport you need an Access Code.
Obtain an Access Code by sending an email to webservices@centraltransport.com. In the email, include your Account Number (11-digit number located on your pricing agreement) and the list of IP addresses shown below. The IP addresses will be used to call the Central Transport web services. Once Central Transport has your account set up, it will respond back to you with your Access Code.
IP addresses that will call Central Transport's web service:
107.0.73.185
38.101.239.130
50.58.179.189
38.67.201.2
64.95.53.188
199.244.253.253
| | |
| --- | --- |
| 2. Connect the FDO to the Central Transport web service. | |
Login to FreightDesk Online (https://freightdesk.online/login) and click on Settings in the navigation menu.
Using the navigation that appears on the left-hand side of the page, click on Connections and then click on the Add Carrier button located on the right side of the page. Locate Central Transport on the list and click on it.
The Add Carrier Modal will be displayed. It is used to establish FDO's connection to Central Transport's web services. Enter the information asked for in the modal. The table at the bottom of this page provides instructions for each field.
When you're done save the connection settings and then test them by clicking the Test Connection button at the bottom of the modal. A message will display letting you know if the FDO succeeded in establishing a connection to the Central Transport servers. If you receive an error, confirm the values you entered and try again. Be particularly attentive to capitalization. Most of the information you enter on this page is case-sensitive.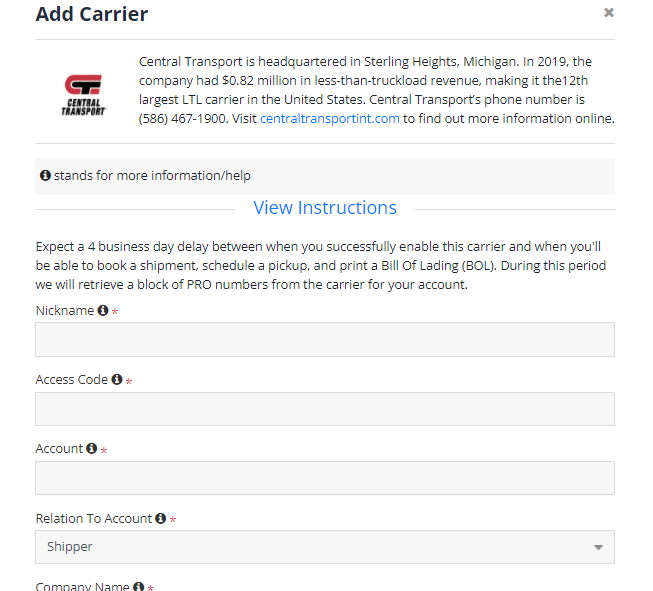 | | |
| --- | --- |
| Nickname | A nickname for your account in FreightDesk Online. |
| Access Code | The Access Code provided by Central Transport after completing Step 1 of these instructions. |
| Account | Your Central Transport account number. It is an 11-digit number and you can find it located on your pricing agreement. |
| Company Name | The company name that is responsible for billing. |
| Address | The street address used for the billing address. |
| City | The city used for the billing address. |
| State/Province | Enter the two-character abbreviation used for the billing address's State or Province. |
| ZIP/Postal Code | Enter the billing address's 5-digit ZIP code for US addresses, or 6-character postal code for Canadian addresses. |
| Country | Select the billing address's country from the drop down. |