| | |
| --- | --- |
| 1. Retrieve your Worldwide Express Authentication Key | |
To connect to the Worldwide Express web services you need to obtain an Authentication Key. To do so, sign into Worldwide Express's online shipping system, Speedship. Select Web Services from the Services menu.
Click on the Request Authentication Key button…
…and complete the form. Select Speedship from the Web Services drop down list if you are requesting an authentication key for small package quotes (UPS/parcel), or Speedfreight for LTL freight quotes. (Note: If you will be using both, you only need to perform this exercise once. The Authentication Key will be the same in both cases. The selection from the drop down list is used to inform the Worldwide Express sales staff, not to activate a particular web service.)
An email containing the Authentication Key will be sent to the email address entered into the form.
| | |
| --- | --- |
| 1. Connect the FDO to the Worldwide web service. | |
After login to freightdesk.online/login go to settings page, the link is listed on the top bar. On the left-hand side of the page, click on connections and then press Add Carrier button then locate and press Worldwide Express into the list. The Add Carrier Modal is used to establish the FDO's connection to Worldwide Express web services. Enter the information asked in the Modal. When you're done save your connection settings and then test them by clicking on the Test Connection button at the bottom of the modal. A message will display letting you know if the FDO succeeded in establishing a connection to the Worldwide Express's servers. If you receive an error, confirm the values you entered and try again. Be particularly attentive to capitalization. Most of the information you enter on this page is case sensitive.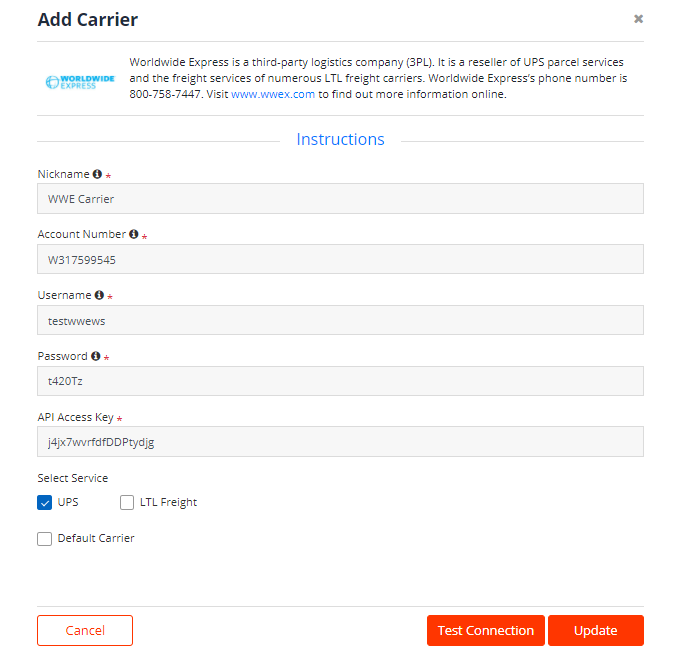 | | |
| --- | --- |
| Nickname | A nickname for your account in FDO. |
| Account Number | Your Worldwide Express account number. If you don't have one please contact your local Worldwide Express office to obtain one |
| Username | The Speedfreight username issued to you by Worldwide Express. It is sometimes referred to as the Speedship username. It is the same username you'd use to login to Worldwide Express's online shipping application located at http://speedship.wwex.com. |
| Password | The password associated with the provided username. |
| API Access Key | The authentication key issued by Worldwide Express. It can be obtained by logging into http://speedship.wwex.com using your Speedfreight credentials, navigating to Services > Web Services and following the instruction provided there |
| | |